Identity vs. Personality
Ireen Zielonka
Identity vs. Personality
Ireen Zielonka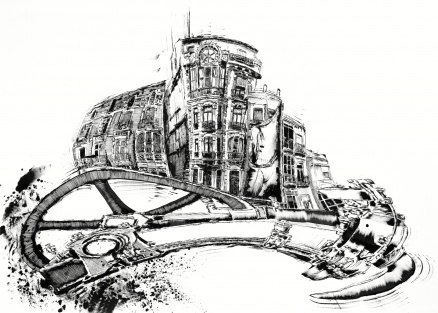 Opening Reception:
September 28th 2018
7:00 pm – 9:00 pm
Exhibition:
September 28th – November 10th 2018

Niebuhrstr. 5
10629 Berlin
Opening Hours:
The gallery is closed from
17th - 21st October 2018
Exhibition Statement
by Giada Dalla Bontà
"And I have known the eyes already, known them all—
The eyes that fix you in a formulated phrase,
And when I am formulated, sprawling on a pin,
When I am pinned and wriggling on the wall,
Then how should I begin
To spit out all the butt-ends of my days and ways?
And how should I presume?"
T.S. Eliot – The Love Song of J. Alfred Prufrock
At the onset of a millennium defined by a frantic search of a new epistemological horizon, the work of Ireen Zielonka weaves an allegorical constellation that investigates the dynamics between the individual and the societal. How one should operate within society? And how to release the individual from this symbiotic behavior?
At the foundation of her inquiry, Zielon- ka's poetics discerns the concept of social identity to that of personality in her own artistic vocabulary. While identity is tightly bound to external factors –whether merely phenomenological or ideological, such as ethnicity, belonging or nationality– personality is the unbound part of our self, an innate and unique character that identity covers and constraints: behavioral codes are fixed structures that divide and delimit, as the walls of a building do. Ireen Zielonka decon- structs, manipulates and rearticulates these structures into altered and highly allegorized systems, compelling the viewer to reconsider the established axioms of self-perception/ self-imagery.
"Identity consists of borders, while perso- nality is what grows incessantly." Yet, the relationship between form and matter is unsolvable and, indeed, it is this very feature to be considered the status that guarantees a structured and efficient evolution in cultural or personal terms. But how much should we rely on structures, and what if the support turns into constraint? A liquid society, as many have called , compels to a compulsive tracking of new parameters that confer the role of an individual "suitable for the global ". Identity has paradoxically become a task by itself and the individual, an isolated monad, is now a serial consumer of new forms that, instead of providing meaning and safety, deepen the fracture with the self and with the other ones.
From Zielonka's whole body of works emerges a distinct investigative position that is deeply rooted in theoretical questions and that, moving through sociopsychology, history and architecture, invests politics, intended both as a system of relationships and as a constellation of powers that gravitate around it. The artist's interest is, in different perspectives, to examine the influence exercised upon an individual –as to say, the liminal zone between power and the object of its exercise. The core of her investigation around the different modes of existence and, most importantly, patterns of thinking, requires a coherently careful approach, rejecting any possibility to be inscribed within a specific category.
Rather than statements or manifestos, Zielonka addresses questions towards herself, the viewer and their surroundings, deploying a method defined as interview. Through personal researches and direct inquiries to specialists of various fields, her professed ignorance of the truth pursues knowledge by adopting skepsis, dialogue, induction and deduction, thus resembling Socrates' maieutic method. The aim is to represent the process of investigation and to elicit knowledge through a dialectic approach to those truths that shape beliefs, scrutinizing their consistency with other beliefs. Therefore, there is no political nor sociological statement but rather a continuous process of questioning that enacts critical thinking, where critical is not intended as polemic, but rather as intellectually attentive.
Shaping anthropic habitats, architecture shapes the world and, at the same time, is shaped by the human conception of what the world's global structure is. Its highly symbolic value, connecting both history and utopia, has been profusely adopted by the artist, whether playfully or, more analytically, as a prism of reflection upon society. Architecture is a monument of a given historical frame and, at the same time, witnesses its development throughout time; inner structures and patterns emerge visually, as her early sculptures reveal more openly. Articulated in space, time and in the movements between the two, a building becomes the embodiment of identities with their wounded bricks and their façades covering inner, invisible structures built along the narration of our experience. Zielonka's interest transcends the urban, mechanized apparatus of ideas; its iconography encompasses nature, artefacts, religions, shadows and vibrations that variously manifest different veils of Maya.
That is, sets of values that, despite aiming ultimately at the truth, cover from light or from free movement and deny access to reality, letting it shimmer through its distorted or irregular pattern. As a counterpart of this repertoire, the constellation within Zielonka's work is concerned with Atmen or pneuma , meaning simultaneously our spirit and the air we breathe. The translatability of what holds living beings together while maintaining their individual existence is experimented with different media and permeates many ink works as much as air permeates existence: trembling and moving subjects, medical case histories, wind drawings and transmedial artistic collaboration are various declension of this ongoing research.
What we see is then that, if on the one hand Zielonka represents fixed structures and limits, on the other hand she tries to convey the quality of life and the subtle changes that constitute the state of being with vibrations and shimmering shapes. The act of drawing entails this approach as well: "The very moment that I draw one line, I start to dissolve it again", she states. Yet, the expressionist ragged lines, ripples and deliberate rubbings on the fresh ink recompose in an organic image, balanced in the dynamic tension between stability and fluidity as it is the Zenonian centrifugal movement of human from the collective.
The large-format, apparently innocuous works of Zielonka disclose an inner tension that deals primarily with shapes. Form is considered the essence of an image and the contrasts between the black ink and the white paper let structures and forms to emerge bare open in their changeable perimeters . In her drawings, surfaces are boiling and whirling, proportions and parts are displaced: there is an aberration of the bi-dimensional fixity through real-life details' manipulation. The distortions of perspective, recalling the vertical one, follows a semantic and symboliclogic rather than a phenomenological one as it is the case of linear perspectivism.
Zielonka's works are constructed through a labor-intensive process in which details of raw documentation are selected, extracted and manipulated for excess or synthesis: rigid architectonic structures shrink or dilate as biological ones, vibrating and breathing as the lively matter they serve and, ultimately, embody. Interestingly, the ink drawings prevent the viewer to decipher them through a single point of view. These processes of disassembling and reassembling do rarely shows clearly their junctions, creating a surrealistic sense of homogeneity. This is one of Zielonka's strategies to reflect formally the multiple perspective of the concept of identity in cultural and personal terms. This multiperspectivist approach, along with its proximity to collage, recalls inevitably the early cubist projects of Braque and Picasso as well as David Hockney's joiner technique, later developed into panography. Yet Zielonka does not show a multitude stitched into one multifaceted whole, nor is she primarily concerned by the space-time continuum; rather, she focuses on the relationship between physical and inner space, creating a monad partially separated and reassembled, as it happens on a daily basis and throughout history with objective or personal structures.
According to the semiotician Jurij Lotman, it is the friction between the collective and the individual -the ability "to break the rules"- to be the main driving force of our development. In this perspective, the faculty to choose consciously, proper of a thinking individual, becomes an active factor of progress that distinguishes the human to other biological or artificial systems. Humans are "abnormal" creatures who depend on the collective as much as their own individuality and whose intrinsic capacity to behave in an unpredictable manner shapes the very matter of intellect . This eccentricity reveals paradoxically the boundaries of our own Umwelt, soliciting/empowering us to consider, prospect and create other ones.
- - - - - - - - - - - - - -
1) Zygmund Bauman, Liquid life. Cambridge: Polity Press. 2005. The Polish-British sociologist theorized that late modernity, shaped by global capitalism, increasing privatization and by the information revolution, deter- mines an ambiguous and fluid set of relations of isolated individuals.
2) Zygmund Bauman, Globalization, The human conse- quences. 1998.
3) Anaximenes of Miletus
4) Plutarch
5) The famous paradox of Achilles and the turtle by Zeno of Elea (V BC) shows through dichotomy that movement over any finite distance can never be completed, and therefore that motion is illusionary.
6) Color, with all its variable in terms of individual perception, is seen as a distraction from the essential and therefore used in rare, highly symbolic occasions
mehr
List of Works
Ecke und Frage
2017
Schellacktusche, Federzeichnung
86 x 122 cm
zoom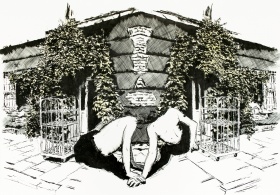 Aus sich herausgewachsen
2018
Schellacktusche, Federzeichnung
Triptychon 61 x 86 cm (3x)
zoom
Auf den Wurzeln
2018
Schellacktusche, Federzeichnung
Diptychon, 86 x 61 cm (2x)

zoom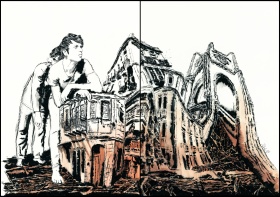 Identity vs. Personality male version
2018
Schellacktusche, Federzeichnung
Triptychon 122 x 86 cm (3x)
zoom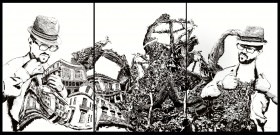 Vic
2017
Schellacktusche, Federzeichnung
Triptychon 122 x 86 cm (3x)
zoom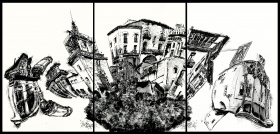 Stadtmechanismus
2017
Schellacktusche, Federzeichnung
86 x 122 cm
zoom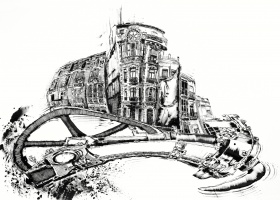 Selbstportrait
2017
Schellacktusche, Federzeichnung
60 x 42 cm
zoom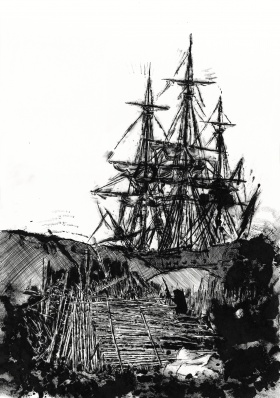 Im Rad
(nach Hermann Hesse " Unterm Rad")
2017
Schellacktusche, Federzeichnung
86 x 122 cm

zoom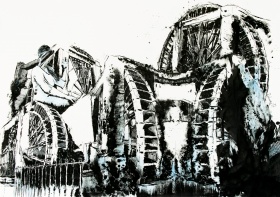 Mann ohne Identität
2017
Schellacktusche, Federzeichnung
50 x 90 cm

zoom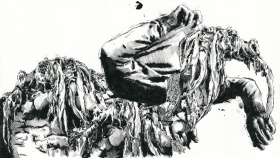 Entscheidungsgewalt
2017
Schellacktusche, Federzeichnung
86 x 122 cm
zoom
Platons Höhlengleichnis
2017
Schellacktusche, Federzeichnung
75 x 55 cm
zoom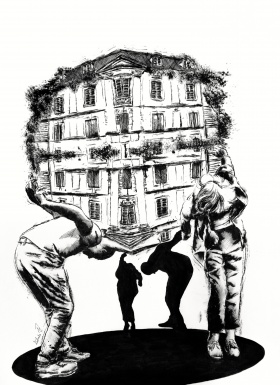 Other Exhibitions
Publications
IREEN ZIELONKA
Identität vs. Persönlichkeit

Galerie Tore Suessbier
14,8 x 21 cm
September 2018

Klaus Killisch
TRANCE

Galerie Tore Suessbier
14,8 cm x 21 cm
February 2018

Yearbook
2015

TS art projects
English
64 pages
14,8 x 21 cm
January 2016

Yearbook
2014

TS art projects
English
64 pages
14,8 cm x 21 cm
January 2015

Yearbook
2013

TS art projects
English
64 pages
14,8 cm x 21 cm
January 2014

Yearbook
2012

TS art projects
English
48 pages
14,8 cm x 21 cm
January 2013

Danny Croucher
Oculus

Mark Gisbourne
TS art projects
English
48 pages
14,8 cm x 21 cm
November 2012

Gallery
About
Die Galerie Tore Suessbier startete unter dem Namen TS art projects in der Oranienburger Str. in Berlin-Mitte im Jahr 2012. Unter den ausgestellten Positionen befanden sich sowohl etablierte Künstler wie Georg Baselitz und Daniel Richter, als auch die Künstler der Mülheimer Freiheit: Gerard Kever, Gerhard Naschberger, Hans Peter Adamski, Jiri Georg Dokoupil, Peter Bömmels, Walter Dahn aber auch klassische Arbeiten von u.a. Otto Dix. Zeitgenössische Positionen wie Danja Akulin, Noriko Ambe, Sabine Banovic, Maryna Baranovska, Cristina Barroso, Olivia Berckemeyer, Joseph Cavalieri, Danny Croucher, Tom Früchtl, Nicolai Huch, Catherine Lorent, Toshihiko Mitsuya, Michal Martychowiec, Temitayo Ogunbiyi, Clement Page, Takahiro Ueda, Michael Sailstorfer, Yehudit Sasportas, Viktoria Sorochinski, Martin Werthmann und Thomas Zipp wurden entweder einzeln oder in kuratierten Ausstellungen von u.a. Birgit Sonna, Tina Sauerländer und Shinya Watanabe präsentiert. 2016 schloss TS art projects in Berlin-Mitte und eröffnete zur Berlin-Art-Week im selben Jahr als Galerie Tore Suessbier in den ehemaligen Räumen der Galerie Michael Haas in Berlin-Charlottenburg. Die Galerie konzentriert sich auf zeitgenössische Malerei und Papierarbeiten.
-
Galerie Tore Suessbier began life as TS art projects in Oranienburger Strasse in Berlin-Mitte in 2012. It showed works by established artists such as Georg Baselitz and Daniel Richter, as well as the artists from the Mülheimer Freiheit – Gerard Kever, Gerhard Naschberger, Hans Peter Adamski, Jiří Georg Dokoupil, Peter Bömmels, and Walter Dahn. Classic works were also exhibited, including drawings by Otto Dix. Contemporary pieces by, for example, Danja Akulin, Noriko Ambe, Sabine Banovic, Maryna Baranovska, Cristina Barroso, Olivia Berckemeyer, Joseph Cavalieri, Danny Croucher, Tom Früchtl, Nicolai Huch, Catherine Lorent, Toshihiko Mitsuya, Michal Martychowiec, Temitayo Ogunbiyi, Clement Page, Takahiro Ueda, Michael Sailstorfer, Yehudit Sasportas, Viktoria Sorochinski, Martin Werthmann, and Thomas Zipp were presented either individually or in curated exhibitions by Birgit Sonna, Tina Sauerländer, and Shinya Watanabe, among others. In 2016, TS art projects closed its doors in Berlin-Mitte and, in the same year, opened as Galerie Tore Suessbier at the start of Berlin Art Week in Berlin-Charlottenburg, in the space previously occupied by Galerie Michael Haas. The gallery concentrates on contemporary painting and works on paper.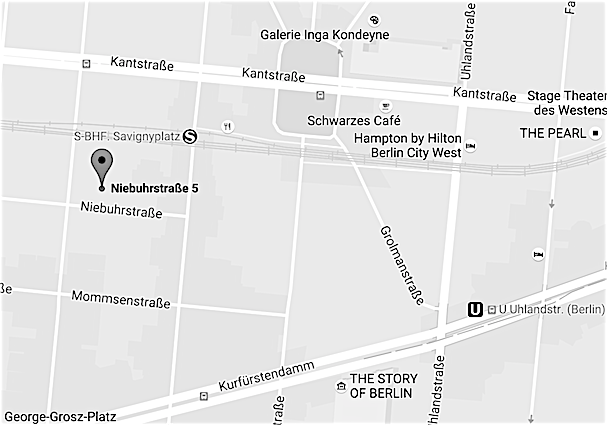 Contact
Galerie Tore Suessbier
Niebuhrstr. 5
10629 Berlin
Opening hours
Tuesday – Friday, 11am – 6pm
Saturday, 11am - 2pm
Telephone
+49 (0) 151 22 94 66 38
Email
mail@toresuessbier.com
Imprint
Galerie Tore Suessbier
Niebuhrstr. 5
10629 Berlin

Telephone
+49 (0) 151 22 94 66 38

Email
mail@toresuessbier.com


Umsatzsteuer-Identifikationsnummer
gem. § 27a UStG: 13/552/01257

Zuständige Behörde: Berlin Charlottenburg/Wilmersdorf

Inhaltlich Verantwortlicher gem. § 55 II RStV:
Tore Süßbier (Anschrift s.o.)

Design
Freddy Fuss
Urheberrechte
Die auf dieser Webseite veröffentlichten Inhalte, Werke und bereitgestellten Informationen unterliegen dem Urheberrecht. Jede Art der Vervielfältigung, Bearbeitung, Verbreitung, Einspeicherung und jede Art der Verwertung außerhalb der Grenzen des Urheberrechts bedarf der vorherigen schriftlichen Zustimmung des jeweiligen Rechteinhabers. Das unerlaubte Kopieren/Speichern der bereitgestellten Informationen auf diesen Webseiten ist nicht gestattet und strafbar.
Haftungsausschluss
Die Galerie Tore Suessbier übernimmt keine Haftung für den Inhalt von Webseiten Dritter: unsere Seite enthält Links auf Seiten Dritter, auf deren Inhalt wir keinen Einfluss haben und für den wir aus diesem Grund keine Gewähr übernehmen. Für die Inhalte und Richtigkeit der Informationen ist der jeweilige Anbieter verantwortlich. Zum Zeitpunkt der Verlinkung waren für uns keine Rechtsverstöße erkennbar. Sollte uns eine Rechtsverletzung bekannt werden, wird der jeweilige Link umgehend von uns entfernt. Eine Haftung der Galerie Tore Suessbier im Zusammenhang mit der Nutzung der auf dieser Website enthaltenen Informationen und Links ist ausgeschlossen.
Datenschutzerklärung
1/Information des für die Datenverarbeitung Verantwortlichen
Verantwortlicher für die Datenverarbeitung auf dieser Website im Sinne der Datenschutz-Grundverordnung (DSGVO) ist:

Galerie Tore Suessbier
Niebuhrstr. 5
10629 Berlin
Tel.: 0151 22 94 66 38
Emai.: mail@toresuessbier.com
Homepage: http://www.toresuessbier.com
Der für die Verarbeitung von personenbezogenen Daten Verantwortliche ist diejenige natürliche oder juristische Person, die allein oder gemeinsam mit anderen über die Zwecke und Mittel der Verarbeitung von personenbezogenen Daten entscheidet. Erreichen können Sie diese über die vorgenannten Kontaktdaten bzw. Mailadresse.
2/Datenerfassung beim Besuch unserer Website
Bei der bloß informatorischen Nutzung unserer Website, also wenn Sie sich nicht registrieren oder uns anderweitig Informationen übermitteln, erheben wir nur solche Daten, die uns Ihr Browser übermittelt (sog. "Server-Logfiles").
Wenn Sie unsere Website aufrufen, erheben wir die folgenden Daten, die für uns technisch erforderlich sind, um Ihnen die Website anzuzeigen:
-Datum und Uhrzeit zum Zeitpunkt des Zugriffes
-Menge der gesendeten Daten in Byte
-Quelle/Verweis, von woher Sie auf die Seite gelangten
-Verwendeter Browser
-Verwendetes Betriebssystem
-Verwendete IP-Adresse in anonymisierter Form
Die Verarbeitung erfolgt gemäß Art. 6 Abs. 1 lit. f DSGVO auf Basis unseres berechtigten Interesses an der Verbesserung der Stabilität und Funktionalität unserer Website. Eine Weitergabe oder anderweitige Verwendung der Daten findet nicht statt. Wir behalten uns allerdings vor, die Server-Logfiles nachträglich zu überprüfen, sollten konkrete Anhaltspunkte auf eine rechtswidrige Nutzung hinweisen.
3/Cookies
Um den Besuch unserer Website attraktiv zu gestalten und die Nutzung bestimmter Funktionen zu ermöglichen, verwenden wir auf verschiedenen Seiten sogenannte Cookies. Hierbei handelt es sich um kleine Textdateien, die auf Ihrem Endgerät abgelegt werden. Einige der von uns verwendeten Cookies werden nach dem Ende der Browser-Sitzung, also nach Schließen Ihres Browsers, wieder gelöscht (sog. Sitzungs-Cookies). Andere Cookies verbleiben auf Ihrem Endgerät und ermöglichen uns oder unseren Partnerunternehmen (Cookies von Drittanbietern), Ihren Browser beim nächsten Besuch wiederzuerkennen (persistente Cookies). Werden Cookies gesetzt, erheben und verarbeiten diese im individuellen Umfang bestimmte Nutzerinformationen wie Browser- und Standortdaten sowie IP-Adresswerte. Persistente Cookies werden automatisiert nach einer vorgegebenen Dauer gelöscht, die sich je nach Cookie unterscheiden kann.
Teilweise dienen die Cookies dazu, durch Speicherung von Einstellungen den Bestellprozess zu vereinfachen (z. B. Merken des Inhalts eines virtuellen Warenkorbs für einen späteren Besuch auf der Website). Sofern durch einzelne von uns implementierte Cookies auch personenbezogene Daten verarbeitet werden, erfolgt die Verarbeitung gemäß Art. 6 Abs. 1 lit. b DSGVO entweder zur Durchführung des Vertrages oder gemäß Art. 6 Abs. 1 lit. f DSGVO zur Wahrung unserer berechtigten Interessen an der bestmöglichen Funktionalität der Website sowie einer kundenfreundlichen und effektiven Ausgestaltung des Seitenbesuchs.
Wir arbeiten unter Umständen mit Werbepartnern zusammen, die uns helfen, unser Internetangebot für Sie interessanter zu gestalten. Zu diesem Zweck werden für diesen Fall bei Ihrem Besuch unserer Website auch Cookies von Partnerunternehmen auf Ihrer Festplatte gespeichert (Cookies von Drittanbietern).
Bitte beachten Sie, dass Sie Ihren Browser so einstellen können, dass Sie über das Setzen von Cookies informiert werden und einzeln über deren Annahme entscheiden oder die Annahme von Cookies für bestimmte Fälle oder generell ausschließen können. Jeder Browser unterscheidet sich in der Art, wie er die Cookie-Einstellungen verwaltet. Diese ist in dem Hilfemenü jedes Browsers beschrieben, welches Ihnen erläutert, wie Sie Ihre Cookie-Einstellungen ändern können.
Bitte beachten Sie, dass bei Nichtannahme von Cookies die Funktionalität unserer Website eingeschränkt sein kann.
4/Kontaktaufnahme
Im Rahmen der Kontaktaufnahme mit uns (z. B. per Kontaktformular oder E-Mail) werden personenbezogene Daten erhoben. Welche Daten im Falle eines Kontaktformulars erhoben werden, ist aus dem jeweiligen Kontaktformular ersichtlich. Diese Daten werden ausschließlich zum Zweck der Beantwortung Ihres Anliegens bzw. für die Kontaktaufnahme und die damit verbundene technische Administration gespeichert und verwendet. Wir geben diese personenbezogenen Daten nicht an Dritte weiter.
5/Newsletter
Wenn Sie sich zu unserem E-Mail Newsletter anmelden, insofern wir diesen Service anbieten, übersenden wir Ihnen regelmäßig Informationen zu unseren Angeboten. Pflichtangabe für die Übersendung des Newsletters ist allein Ihre E-Mailadresse. Die Angabe weiterer evtl. Daten ist freiwillig und wird verwendet, um Sie persönlich ansprechen zu können.
Für den Versand des Newsletters verwenden wir das sog. Double Opt-in Verfahren. Dies bedeutet, dass wir Ihnen erst dann einen E-Mail Newsletter übermitteln werden, wenn Sie uns ausdrücklich bestätigt haben, dass Sie in den Versand von Newsletter einwilligen. Wir schicken Ihnen dann eine Bestätigungs-E-Mail, mit der Sie gebeten werden durch Anklicken eines entsprechenden Links zu bestätigen, dass Sie künftig Newsletter erhalten wollen.
Mit der Aktivierung des Bestätigungslinks erteilen Sie uns Ihre Einwilligung für die Nutzung Ihrer personenbezogenen Daten gemäß Art. 6 Abs. 1 lit. a DSGVO. Bei der Anmeldung zum Newsletter speichern wir Ihre vom Internet Service-Provider (ISP) eingetragene IP-Adresse sowie das Datum und die Uhrzeit der Anmeldung, um einen möglichen Missbrauch Ihrer E-Mail-Adresse zu einem späteren Zeitpunkt nachvollziehen zu können. Die von uns bei der Anmeldung zum Newsletter erhobenen Daten werden ausschließlich für Zwecke der werblichen Ansprache im Wege des Newsletters benutzt. Sie können den Newsletter jederzeit über den dafür vorgesehenen Link im Newsletter oder durch entsprechende Nachricht an den eingangs genannten Verantwortlichen abbestellen. Nach erfolgter Abmeldung wird Ihre E-Mailadresse unverzüglich in unserem Newsletter-Verteiler gelöscht, soweit Sie nicht ausdrücklich in eine weitere Nutzung Ihrer Daten eingewilligt haben oder wir uns eine darüberhinausgehende Datenverwendung vorbehalten, die gesetzlich erlaubt ist und über die wir Sie in dieser Erklärung informieren.
Wir verwenden YMLP, um unseren Newsletter zu versenden. Personenbezogene Daten im Rahmen der Newsletteranmeldung werden daher an YMLP, Ieperstraat 97-99, B-8970 Poperinge, Belgium übermittelt. Dabei ist es YMLP untersagt, diese Daten für andere Zwecke als für den Versand des Newsletters und dessen Auswertung zu nutzen. Eine Weitergabe oder ein Verkauf dieser Daten ist YourMailingListProvider nicht gestattet.
6/Rechte des Betroffenen
Das geltende Datenschutzrecht gewährt Ihnen gegenüber dem Verantwortlichen hinsichtlich der Verarbeitung Ihrer personenbezogenen Daten umfassende Betroffenenrechte (Auskunfts- und Interventionsrechte), über die wir Sie nachstehend informieren:
Auskunftsrecht gemäß Art. 15 DSGVO:
Sie haben insbesondere ein Recht auf Auskunft über Ihre von uns verarbeiteten personenbezogenen Daten, die Verarbeitungszwecke, die Kategorien der verarbeiteten personenbezogenen Daten, die Empfänger oder Kategorien von Empfängern, gegenüber denen Ihre Daten offengelegt wurden oder werden, die geplante Speicherdauer bzw. die Kriterien für die Festlegung der Speicherdauer, das Bestehen eines Rechts auf Berichtigung, Löschung, Einschränkung der Verarbeitung, Widerspruch gegen die Verarbeitung, Beschwerde bei einer Aufsichtsbehörde, die Herkunft Ihrer Daten, wenn diese nicht durch uns bei Ihnen erhoben wurden, das Bestehen einer automatisierten Entscheidungsfindung einschließlich Profiling und ggf. aussagekräftige Informationen über die involvierte Logik und die Sie betreffende Tragweite und die angestrebten Auswirkungen einer solchen Verarbeitung, sowie Ihr Recht auf Unterrichtung, welche Garantien gemäß Art. 46 DSGVO bei Weiterleitung Ihrer Daten in Drittländer bestehen; Recht auf Berichtigung gemäß Art. 16 DSGVO: Sie haben ein Recht auf unverzügliche Berichtigung Sie betreffender unrichtiger Daten und/oder Vervollständigung Ihrer bei uns gespeicherten unvollständigen Daten;
Recht auf Löschung gemäß Art. 17 DSGVO:
Sie haben das Recht, die Löschung Ihrer personenbezogenen Daten bei Vorliegen der Voraussetzungen des Art. 17 Abs. 1 DSGVO zu verlangen. Dieses Recht besteht jedoch insbesondere dann nicht, wenn die Verarbeitung zur Ausübung des Rechts auf freie Meinungsäußerung und Information, zur Erfüllung einer rechtlichen Verpflichtung, aus Gründen des öffentlichen Interesses oder zur Geltendmachung, Ausübung oder Verteidigung von Rechtsansprüchen erforderlich ist;
Recht auf Einschränkung der Verarbeitung gemäß Art. 18 DSGVO:
Sie haben das Recht, die Einschränkung der Verarbeitung Ihrer personenbezogenen Daten zu verlangen, solange die von Ihnen bestrittene Richtigkeit Ihrer Daten überprüft wird, wenn Sie eine Löschung Ihrer Daten wegen unzulässiger Datenverarbeitung ablehnen und stattdessen die Einschränkung der Verarbeitung Ihrer Daten verlangen, wenn Sie Ihre Daten zur Geltendmachung, Ausübung oder Verteidigung von Rechtsansprüchen benötigen, nachdem wir diese Daten nach Zweckerreichung nicht mehr benötigen oder wenn Sie Widerspruch aus Gründen Ihrer besonderen Situation eingelegt haben, solange noch nicht feststeht, ob unsere berechtigten Gründe überwiegen;
Recht auf Unterrichtung gemäß Art. 19 DSGVO:
Haben Sie das Recht auf Berichtigung, Löschung oder Einschränkung der Verarbeitung gegenüber dem Verantwortlichen geltend gemacht, ist dieser verpflichtet, allen Empfängern, denen die Sie betreffenden personenbezogenen Daten offengelegt wurden, diese Berichtigung oder Löschung der Daten oder Einschränkung der Verarbeitung mitzuteilen, es sei denn, dies erweist sich als unmöglich oder ist mit einem unverhältnismäßigen Aufwand verbunden. Ihnen steht das Recht zu, über diese Empfänger unterrichtet zu werden. Recht auf Datenübertragbarkeit gemäß Art. 20 DSGVO: Sie haben das Recht, Ihre personenbezogenen Daten, die Sie uns bereitgestellt haben, in einem strukturierten, gängigen und maschinenlesebaren Format zu erhalten oder die Übermittlung an einen anderen Verantwortlichen zu verlangen, soweit dies technisch machbar ist;
Recht auf Widerruf erteilter Einwilligungen gemäß Art. 7 Abs. 3 DSGVO:
Sie haben das Recht, eine einmal erteilte Einwilligung in die Verarbeitung von Daten jederzeit mit Wirkung für die Zukunft zu widerrufen. Im Falle des Widerrufs werden wir die betroffenen Daten unverzüglich löschen, sofern eine weitere Verarbeitung nicht auf eine Rechtsgrundlage zur einwilligungslosen Verarbeitung gestützt werden kann. Durch den Widerruf der Einwilligung wird die Rechtmäßigkeit der aufgrund der Einwilligung bis zum Widerruf erfolgten Verarbeitung nicht berührt;
Recht auf Beschwerde gemäß Art. 77 DSGVO:
Wenn Sie der Ansicht sind, dass die Verarbeitung der Sie betreffenden personenbezogenen Daten gegen die DSGVO verstößt, haben Sie - unbeschadet eines anderweitigen verwaltungsrechtlichen oder gerichtlichen Rechtsbehelfs - das Recht auf Beschwerde bei einer Aufsichtsbehörde, insbesondere in dem Mitgliedstaat Ihres Aufenthaltsortes, Ihres Arbeitsplatzes oder des Ortes des mutmaßlichen Verstoßes.
Widerspruchsrecht
Wenn wir im Rahmen einer Interessenabwägung Ihre personenbezogenen Daten aufgrund unseres überwiegenden berechtigten Interesses verarbeiten, haben Sie das jederzeitige Recht, aus Gründen, die sich aus Ihrer besonderen Situation ergeben, gegen diese Verarbeitung widerspruch mit Wirkung für die Zukunft einzulegen.
Machen sie von Ihrem Widerspruchsrecht gebrauch, beenden wir die Verarbeitung der betroffenen Daten. Eine Weiterverarbeitung bleibt aber vorbehalten, wenn wir zwingende, schutzwürdige Gründe für die Verarbeitung nachweisen können, die Ihre Interessen, Grundrechte, Ausübung oder Verteidigung von Rechtsansprüchen dient.
Werden Ihre personenbezogenen Daten von uns verarbeitet, um Direktwerbung zu betreiben, haben Sie das Recht, jederzeit Widerspruch gegen die Verarbeitung einzulegen. Sie können den Widerspruch wie oben beschrieben ausüben.
Machen Sie von Ihrem Widerspruchsrecht gebrauch, beenden wir die Verarbeitung der betroffenen Daten zu Direktwerbezwecken.
7/Dauer der Speicherung personenbezogener Daten
Die Dauer der Speicherung von personenbezogenen Daten bemisst sich anhand der jeweiligen gesetzlichen Aufbewahrungsfrist (z. B. handels- und steuerrechtliche Aufbewahrungsfristen). Nach Ablauf der Frist werden die entsprechenden Daten routinemäßig gelöscht, sofern sie nicht mehr zur Vertragserfüllung oder Vertragsanbahnung erforderlich sind und/oder unsererseits kein berechtigtes Interesse an der Weiterspeicherung fortbesteht.
8/Einsatz von Google-Maps
Wir setzen auf unserer Seite die Komponente "Google Maps" der Firma Google Inc., 1600 Amphitheatre Parkway, Mountain View, CA 94043 USA, nachfolgend "Google", ein. Bei jedem einzelnen Aufruf der Komponente "Google Maps" wird von Google ein Cookie gesetzt, um bei der Anzeige der Seite, auf der die Komponente "Google Maps" integriert ist, Nutzereinstellungen und -daten zu verarbeiten. Dieses Cookie wird im Regelfall nicht durch das Schließen des Browsers gelöscht, sondern läuft nach einer bestimmten Zeit ab, soweit es nicht von Ihnen zuvor manuell gelöscht wird.
Wenn Sie mit dieser Verarbeitung Ihrer Daten nicht einverstanden sind, so besteht die Möglichkeit, den Service von "Google Maps" zu deaktivieren und auf diesem Weg die Übertragung von Daten an Google zu verhindern. Dazu müssen Sie die Java-Script-Funktion in Ihrem Browser deaktivieren. Wir weisen Sie jedoch darauf hin, dass Sie in diesem Fall die "Google Maps" nicht oder nur eingeschränkt nutzen können. Die Nutzung von "Google Maps" und der über "Google Maps" erlangten Informationen erfolgt gemäß den Google-Nutzungsbedingungen
http://www.google.de/intl/de/policies/terms/regional.html
sowie der zusätzlichen Geschäftsbedingungen für "Google Maps"
https://www.google.com/intl/de_de/help/terms_maps.html.
9/Einsatz von Vimeo
Wir setzen auf unserer Seite die Komponente Vimeo der Firma Vimeo, Inc., 555 West 18thStreet, New York, New York 10011, ein. Bei dem Aufruf der Komponente Vimeo wird der Internetbrowser der betroffenen Person veranlasst, eine Komponente von Vimeo herunterzuladen. Hiervon erhält Vimeo Kenntnis. Wenn die betroffene Person mit ihrem Vimeo-Account eingeloggt ist, ordnet Vimeo den Aufruf unserer Unterseite dem entsprechenden Account zu, auch, wenn die betroffene Person zu einem späteren Zeitpunkt unsere Internetseite besucht ohne eine integrierte Vimeo-Komponente anzuklicken. Eine Übermittlung dieser Daten kann u.A. dadurch verhindert werden, dass Sie sich vor einem Aufruf unserer Interseite aus ihrem Vimeo-Account ausloggen und die Cookies löschen. Die Nutzung von Vimeo erlangten Informationen erfolgt gemäß den Vimeo Nutzungsbedingungen und Datenschutzbestimmungen: https://vimeo.com/privacy
10/Weitere Informationen
Wenn Sie weitere Fragen zum Thema "Datenschutz" haben, kontaktieren Sie uns bitte. Die Kontaktadresse finden Sie in unserem Impressum.